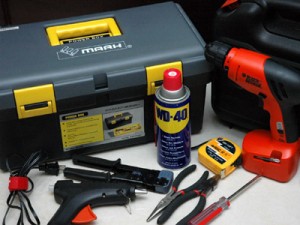 Do-It-Yourself projects have their obvious advantages. In most cases, DIY projects save you quite a bit of cash, and provide valuable experience to be used or passed on in the future. On top of that, do-it-yourself ventures are also fun! However; it is important to distinguish wise DIY decisions from unwise ones. Knowing which projects to tackle by yourself and which projects to leave for professionals is very important, and can prevent you from biting off more than you can chew in many cases. I feel that there is a very simple "check list", if you will, for determining which projects are DIY-appropriate.
TIME
Time is arguably the most important factor in deciding which projects to take on with no hired help. Cosmetic projects with no actual necessity are excellent do-it-yourself opportunities. Such elective projects may include: remodeling your garage or closet; upgrading your patio or landscaping; or even building a deck. These types of jobs can be very fulfilling when done on your own, and can even increase the value of your property. They can also be completed rather quickly and at your own pace making such projects easy to juggle with work, school, and personal leisure time. However; urgent projects, such as fixing a busted pipe in your plumbing, or moving long distance with short notice, are a different story. When you need something done fast, hiring a professional is the way to go. Little Rock professional moving companies, for example, possess the skill and experience to quickly and safely move your family to your new home in such a manner that you actually save more money hiring-out as opposed to doing the move on your own. Saving money is the name of the game, which brings us to the next factor…
MONEY
A monetary budget is easily the most obvious factor among DIY enthusiasts for deciding when to do it yourself. Bottom line, the primary purpose for DIY resourcing is to save money. Simple projects such as painting the walls of your new home are excellent DIY-appropriate ideas. Painting can be tedious, but for the most part it is pretty self explanatory. Just purchase paint, brushes, buckets, tape, floor protection, and possibly a simple painting guide, and you're ready to get started! The absence of labor costs is what saves you money when you DIY. In many cases though, professional service is absolutely necessary, at least to some degree. Furthermore, every project can be broken down into smaller steps. Balancing your DIY can allow you to provide some of your own labor and material (saving you money), while still receiving professional service which you also need. When it comes to moving your home: packing boxes, disassembling furniture, and organizing smaller furniture and boxes are ideal tasks for do-it-yourselfers. These types of preparations make it possible for your hired professional movers to complete the remainder of your move quickly as they are left with a simple grab-and-go style operation. Moving monstrous belongings such as a grand piano, or a side-by-side refrigerator is best left for your Little Rock movers to handle.
SAFETY
The safety factor of any DIY-possible project should be a paramount component of your decision making process. Simply put: if a DIY project can potentially send you to the emergency room, the risks far outweigh the advantages and you should hire professionals.
I hope these DIY concepts have provided some food for thought for you do-it-yourselfers out there! Good luck on all of your upcoming projects, and don't forget: Your professional Little Rock movers are always there to lend a helping hand.

This entry was posted in